Profile
CRi explains cutting edge IT law developments at national and international level to serve as a source of inspiration and a valuable tool for IT-law practitioners. As a peer reviewed journal, CRi explains and analyses state-of-the-art approaches and solutions to global IT-law challenges in their international context. An international network of reputable correspondents supports CRi in finding top quality submissions by talented authors.
mehr...
Table of Contents
Test Subscription
Computer Law Review International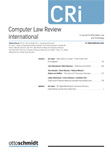 Subscribe now to CRi and secure the advantages of legal comparison for your practice: state-of-the-art approaches and solutions from other jurisdictions - every second month, six times a year.
test now (ordering option in German)
mehr...